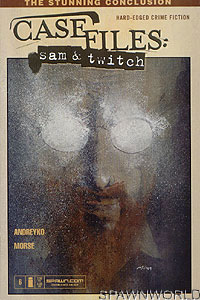 Image: Trent

- Book:
Case Files: Sam and Twitch
- Issue:
6
- Date:
December 2003
- Writer(s):
- Artist(s):

- Scott Morse
- Jay Fotos
- Jimmy Betancourt
- Michael Seghers
- Ben Timmreck

(Illustration)
(Color)
(Letters)
(Art direction)
(Graphic design)

- Notes:
This story arc is told in an interesting 3 tiered format where, roughly speaking, tier one tells the first act of the story, tier 2 tells the middle, and tier 3 tells the final act.

- Have You Seen Me? Part 6

Tier 1: Twitch and Max Jr. are discussing their tragic recent events as a sniper's bullet is shot through the window into Max Jr.'s head.

Tier 2: Twitch tracks down Josef Udaku and the KC clone outside the embassy. Twitch gives in to temptation and shoots Josef. KC jumps into the river rather than having to shoot Twitch. Moments later Twitch is placed under arrest.

Tier 3: Josef Udaku appears with his lawyer at the trial. Apprently, he was wearing a kevlar vest at the time Twitch shot him and was never killed. All charges against Twitch are dismissed. Later, when the KC clone and Josef take flight for South Africa, it is revealed that Josef was a clone of sorts working for KC.