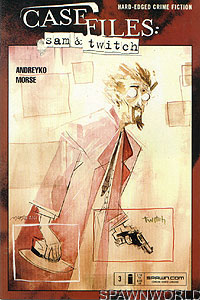 Image: Trent

- Book:
Case Files: Sam and Twitch
- Issue:
3
- Date:
September 2003
- Writer(s):
- Artist(s):

- Scott Morse
- Jay Fotos
- Jimmy Betancourt
- Michael Seghers
- Ben Timmreck

(Illustration)
(Color)
(Letters)
(Graphic design)
(Art direction)

- Notes:
This story arc is told in an interesting 3 tiered format where, roughly speaking, tier one tells the first act of the story, tier 2 tells the middle, and tier 3 tells the final act.

- Have You Seen Me? Part 3

Tier 1: Twitch learns from teh medical examiner that the arm could be his daughters, though that hasn't been confirmed. He also learns the arm was removed with a saw while the victim was still alive.

Tier 2: Twitch relates the story of seeing KC to unbelieving police. Sam takes Twitch home to get some rest again, this time when he arrives Twitch receives a disturbing phonecall on a payphone outside.

Tier 3: Twitch meets with his lawyer in prison, and Sam is served a subpoena to appear in the trial.