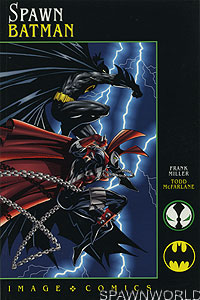 Image: Trent

| | | |
| --- | --- | --- |
| | | |
| | - No entries available yet. | |
| | | |
- Book:
Spawn / Batman
- Issue:
1
- Date:
1994
- Writer(s):
Frank Miller
- Artist(s):

- Todd McFarlane
- Kiko Taganashi
- Steve Oliff
- Olyoptics
- Tom Orzechowski

(Cover,Interiors)
(Cover)
(Color)
(Computer Color)
(Letters)

- Notes:
This is the Image edition of the crossover, there is also a book that was produced by DC.

- Spawn / Batman

Someone is kidnapping homeless men in NY and turning them into cyborgs. This draws the attention of Spawn who wants to find out who is kidnapping his friends.

When one of the cyborgs makes its way to Gotham City, Batman begins an investigation which leads him straight to Spawn.