When I added the Spawn Facts section here to the front page, I had a group of about 25 Spawn trivia facts that could cycle randomly. That was a good start, but I could certainly use more to keep it interesting. That's why I've decided to ask for your help and hold the first ever SpawnWorld contest!
- What to do: Submit facts and trivia about the Spawn universe. Think of fun or interesting things that fellow Spawn fans might not know or might have forgotten.
- Why: So what do you get for your submission? Well other than the satisfaction of contributing to the Spawn community and the joy of maybe seeing your fact on the site, you'll also be entered to win this: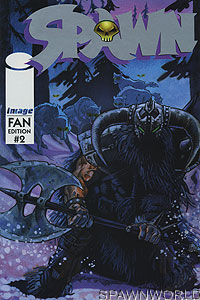 - Prize: Spawn FAN Edition #2 Platinum!
That's right, one of the rarest Spawn comics in existence could be yours! Most Spawn collectors have never even seen one of these in person!
- Examples: So what makes a good Spawn Fact? Some bit of trivia related to Spawn characters, strylines, comics, etc. that fellow Spawn fans would find interesting. Such as:

"Covenant was once tied to rocks in a cave for 40 years by the angry crew of a merchant vessel that he had chartered passage on."

or

"Mammon first appeared in issue 87 but was unnamed in the storyline until issue 139. In the meantime, he became known as 'Mr. Hell' after being listed as such in the synopsis for issue 88."

An example of a bad fact would be something obvious like:

"Al Simmons was Spawn".
- Rules: So how do you enter? Once you've come up with your amazing Spawn Fact, just place it in an email in this format:
Fact: (an interesting fact about something Spawn related)
Issue: (the comic issue in which your fact can be verified)
Email it to:
contest@spawnworld.com
- Fine Print: Entries must be received by 9/25/2011. Only entries judged by SpawnWorld to be relevant and valid will be entered in the drawing. Out of all valid entries, the prize winner will be selected randomly. Some entries, the most interesting and most well written, will be published on SpawnWorld. By entering you agree to let SpawnWorld use your entry on the site. The winner of the drawing will be announced on 9/26/2011. Enter as many times as you like. The more you enter, the better the chance of seeing your facts used on the site. There will be only 1 entry per person in the prize drawing however.
Thanks and good luck!